When I realised today's NATO Alphabet word was Echo I became obsessed with echolocation and talking about dolphins.  I don't really know why, but it did also give me the chance to read and review another book for the usual Saturday feature.
Dolphins are just one of the family of toothed whales that use echolocation for navigation and to identify and catch their food.
They make high frequency clicking sounds, emanating from a body called the melon at the front of the forehead, and receive the return signals in receptors on either side of their jaw, thus receiving them in stereo, enabling them to focus.
Echolocation is also used by most bats, who receive the sounds back in their large (and very delicate) ears.
Book Review:
The Girl who Dreamt of Dolphins by James Carmody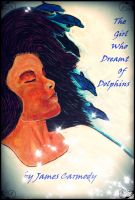 This is the first in the Dolphin Child series, and I got it free from Smashwords just over two years ago, during Read an EBook Week.  After that the book seemed to disappear, which was a shame.  It's now available again on Smashwords, along with the others in the series, Dolphin Child, and Midnight Dolphin (also free).
Lucy dreams of dolphins.  She can't remember a time when she didn't.  Her father wouldn't understand, and since her mother 'disappeared' he doesn't pay much attention to her anyway – often forgetting to collect her from school, among other things.  Despite this, he doesn't want help from her aunt, who would be only too pleased to help out, and give them a holiday in Cornwall.  Dad wants to keep Lucy away from Cornwall at all costs – in case she suffers the same problem as her mother.
In fact, Lucy doesn't need to live in Cornwall to have a very close relationship with a dolphin named Spirit.  She finds herself more and more involved in his adventures.  Then danger befalls him, and he sees her helping to direct him to safety.  What is this connection, and how dangerous can it be – for Lucy and for Spirit?
This is a beautifully told tale suitable for older middle grades and possibly to be read to younger children ready for natural history lessons.  Lucy's story is interspersed with chapters focusing on life in the sea with Spirit and his friends, until it all comes together in an exciting climax.  It's a good story even if you've read a lot of dolphin tales, and the idea of communing with other animals, especially dolphins, is attractive to many youngsters – and oldsters like me!
The Girl Who Dreamt of Dolphins by James Carmody
There are also some nice descriptions of echolocation in action in Spirit's parts of the book!
Don't forget to enter the Giveaway to win ebooks and cash, plus other goodies!  Click the Badge to go to the entry page.
Echo & The Girl Who Dreamt of Dolphins